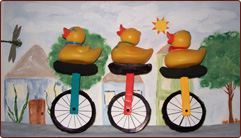 Meet The Quackers. They are three young surfing ducks, born and raised in
the canals of Venice, California. Their passion in life is surfing and saving the Earth. Their mission is to raise awareness about the environment, global warming and cleaning up pollution through their original stories and photos
Sidney J. Quacker is the studious, good-looking duck with the blue glasses and the blue and white-striped tie. He is a brain. He loves math, computers and most of all reading. He often brings a book along, in a reusable water proof bag of course, to read while waiting for the next perfect wave. He is the narrator of the stories.
Richard Quacker is the quiet, introspective one in the green string tie. He loves swimming, of course, gardening, hiking and observing the wonders of nature. His green thumb supplies the family with healthy veggies from his organic garden. I forgot to mention his love for Puccini Operas. He remains heartbroken over the passing of Luciano Pavarotti.

Rusty Quacker is the daredevil of the group. He is not exactly the Evel Knievel of the duck world but definitely a classic risk taker. He is the energetic one sporting the blue beanie and the bright red bow tie. He loves swimming, snorkeling and skydiving. If you knew him, you would not be surprised that he
has surfed Cortes Bank.